EnOceanSpaces – your workplace management solution
There is no easier, faster and cost-effective way to optimize the utilization of office space. EnOceanSpaces is a solution which offers many benefits. It offers care-free workplace management like desksharing and reduces energy consumption at the same time. Ask us for Return on Investment (ROI) examples and you will be amazed.
Hybrid working challenges existing office concepts and requires new working environments:
of companies want to switch to desksharing1www.forbes.com
Dedicated workspaces per employee are massive cost drivers: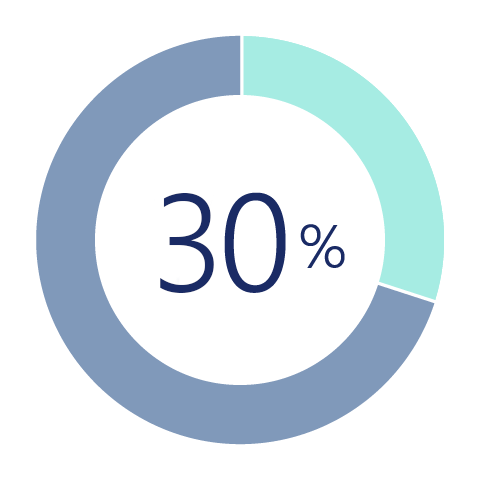 of office space can be reduced with desksharing3www.officeforfuture.de
Cost-effective desksharing and room booking
Employees can flexibly book a room or a desk depending on their needs!
Sensors monitor which rooms and desks are being used
Employee app shows which desks are still free and which meeting rooms are available to book in real time
Increase of productivity and well-being of the employees
Energy monitoring for better energy-efficiency in buildings
It's more important than ever to know about energy savings potentials!
Get in control of the energy consumption
Heating or air condition only runs when a room is occupied, and windows are closed
Make your building more sustainable and help to reduce the CO2 footprint of buildings
Well-being and best air quality
Control air quality and know everything about how to create better working environments!
Sensors monitor which rooms are occupied and measure environmental parameters such as temperature, humidity or CO2
Sensors provide information on whether doors and windows are open or closed.
Data is visualized in a dashboard
EnOceanSpaces – little effort, great outcome!
EnOcean has developed with its partners a truly unique solution for smart spaces and offers standardized bundles to organizations and companies. From planning to deployment – companies can rely on a carefree package since an experienced system integrator will handle the project. And the best of it, EnOceanSpaces is very cost-effective since the solution leverages the already existing IT infrastructure using Wi-Fi access points.
EnOcean sensors
Self-powered wireless EnOcean sensors collect data like occupancy, temperature, illumination, CO2, people flow and humidity.
Wi-Fi access points
The sensor data is forwarded via the IT infrastructure to the application. Using Wi-Fi access points ensures secure onboarding of the sensors.
Customer application
The scope of the provided application depends on the required use cases like room booking and desksharing.
Ready to know more?
Get more insights and contact us to arrange a free demo of the smart spaces solution EnOceanSpaces. We are happy to show you the solution in detail.